This conference is in the past – view Dr. Herring's and Dr. Looney's remarks here: (Download)
Apologies that the recording was started late. We did capture Dr. Herring's presentation and the Q&A that followed with both Dr. Looney and Dr. Herring. Thank you all who attended.
Watch this spot for future sections of the video.
---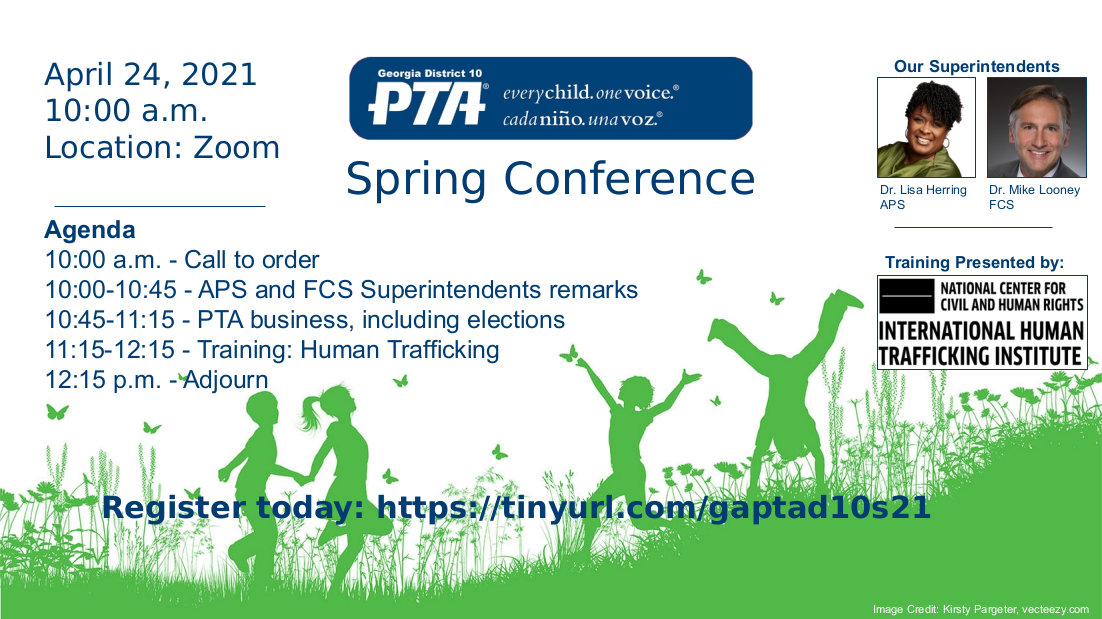 Who: YOU
What: Our annual Spring conference – see the agenda below
When: Saturday, April 24, 10:00 a.m.
Where: Zoom – click the link to register
Why: Because you are an informed parent leader, school leader, or other stakeholder in Fulton County
Register here: https://tinyurl.com/gaptad10s21
PTA Presidents: It is a requirement that you attend. If you cannot attend, please send at least one alternate in your place, from your board or membership.

Agenda
10:00 a.m. – Call to order
10:00-10:45 – Atlanta Public Schools Superintendent Dr. Lisa Herring and Fulton County Schools Superintendents Dr. Mike Looney followed by Q&A
10:45-11:15 – PTA business, including elections, emergency SPLOST resolution – see below for links
11:00-12:00 – Training: Human Trafficking from the National Center for Civil and Human Rights' International Human Trafficking Institute's Jessee Dagen, Esq.
12:00 p.m. – Adjourn
PTA Business:
1. Elections – Flyer-District10SlateOfOfficers2021-2023
2. Emergency SPLOST Resolution – 2021 SPLOST VI Resolution – DRAFT